Restaurant Marketing Today: key steps to drive revenue
In today's digital age, direct online sales have become increasingly important for businesses, especially in the restaurant industry. Now, when customers have convenient access to almost anything on-demand online, literally at their fingertips, there's no turning back to the old-school ways. Therefore, if your direct online orders make up less than 50% of your total, it's time to take a step back and reevaluate your strategies. 
No need to worry; we've got your back when it comes to boosting your direct online sales. We have helped over 600 restaurants worldwide achieve great results. So, you can trust us to guide you in the right direction. Now, let's take the next step toward success. We have created a comprehensive checklist to ensure you're on track.
1) Provide a direct ordering channel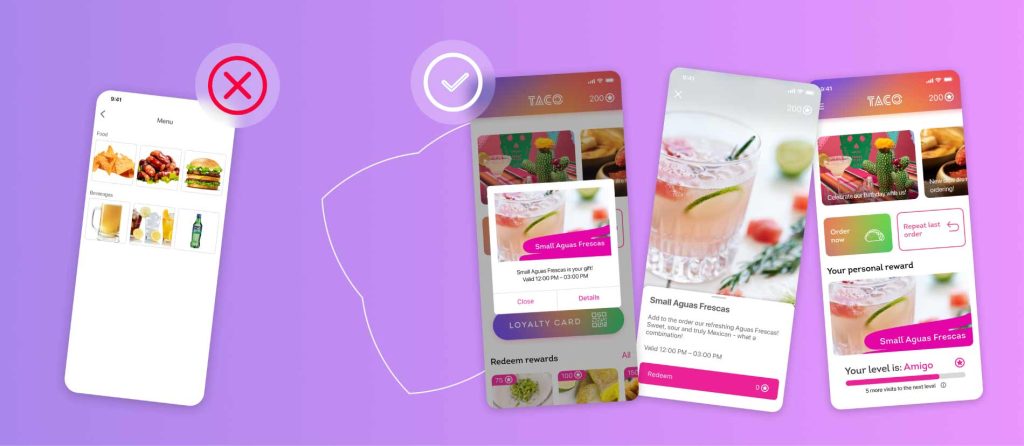 Ensure a seamless ordering experience that meets all customer expectations. There are different platforms to choose from, but when it comes to maximizing your restaurant's online presence, there's nothing quite like a mobile app. Here's why: 
A mobile app puts your restaurant right in the hands of your customers, offering them a convenient and user-friendly way to place orders. And, as we look ahead, the global mobile user count is forecasted to hit a remarkable 7.49 billion. With such vast potential customer reach, launching a mobile app is not just an option but a necessity for staying ahead. So, for simplicity's sake, let's assume that you are considering the launch of a mobile app.
But otherwise, the choice is yours, but make sure the platform you pick has features that improve the ordering process. For example, some of the features that all LoyaltyPlant apps have: 
User-friendly UX 

that delivers a smooth and intuitive interface that makes ordering a breeze.

Big mouth-watering visuals 

that can display your delicious menu items using captivating images and make customers crave your food.

One-click / repeat order function 

that allows customers to place orders or easily reorder their favorites with just a tap. 

Order status & Courier Tracking 

that keeps customers informed about their order's progress and provides real-time courier tracking.

Quick payment option 

that offers fast and secure payment methods to streamline the checkout process. 

Auto feedback form 

after each purchase that collects valuable feedback automatically after each purchase to improve your service.

Also, a "recommended products" function

, which offers relevant upselling suggestions that complement customers' orders.
These features are just the tip of the iceberg when it comes to the efficiency our solution offers. To uncover the full spectrum of benefits we have – dive into our captivating product page. 
But let's continue; while it may appear that aggregators like Uber Eats have everything covered, it's crucial to recognize that they are not direct channels. Relying on them can present flaws and limitations that may impact your business. I have written an article about it: "Unveiling the True Costs: Redefining Success in the Age of Third-Party Aggregators," which details the untold risks for restaurants using aggregators. Whether you're a newbie or a seasoned pro in the world of third-party platforms, this is a must-read that I highly recommend diving into!
2) Clearly communicate your app's unique value to all customers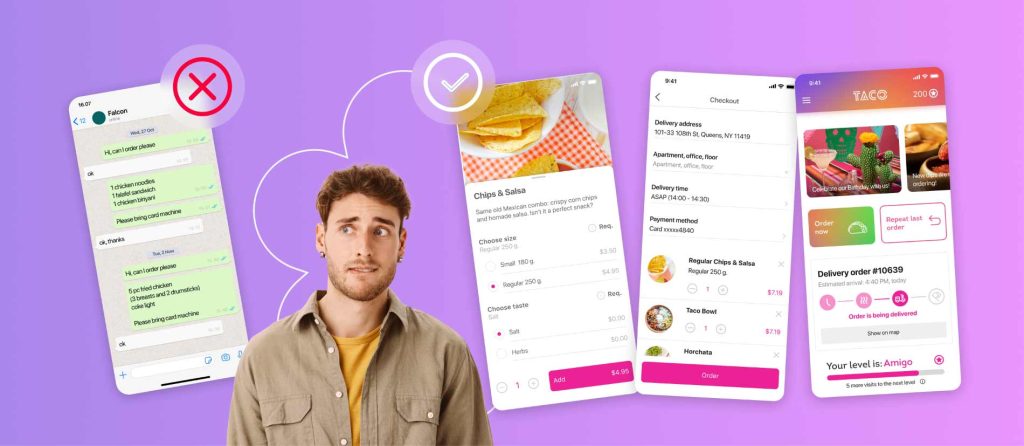 Once customers opt into your direct online channel, for example, through the app, it provides an opportunity to engage them with compelling brand content and storytelling. Through the app, you can showcase your brand's personality and unique values that set your business apart. 
Introduce your team members, share your restaurant's history, and highlight any causes or charities you support. By effectively telling your brand's story through engaging content such as videos, images, and gamification, customers can connect on a deeper level. This storytelling approach allows customers to see themselves reflected in the beliefs and values of your brand, fostering a stronger emotional connection.
3) Focus on customer segments that are not "cold leads"
After you have launched your preferred platform, it is time to start spreading the word about it. 
When aiming to increase the number of direct orders, it's crucial to avoid the common mistake of solely promoting to potential customers. Instead, focus on nurturing your existing customer base, including in-store visitors and aggregator users. 
These segments already have a level of familiarity with your brand, and by directing your efforts toward these warm leads, you can maximize your chances of success and boost your direct online sales.
4) Clearly communicate your app's unique value to all customers
Highlight the benefits of your direct ordering channel. Let your aggregator and in-store customers know that interacting directly with your brand is convenient and unlocks many personalized offers and ongoing benefits. 
By effectively delivering this message, you can attract more customers to use the direct route, ultimately boosting sales and creating a rewarding experience.
5) Make Your Direct channel the Heart of Your Restaurant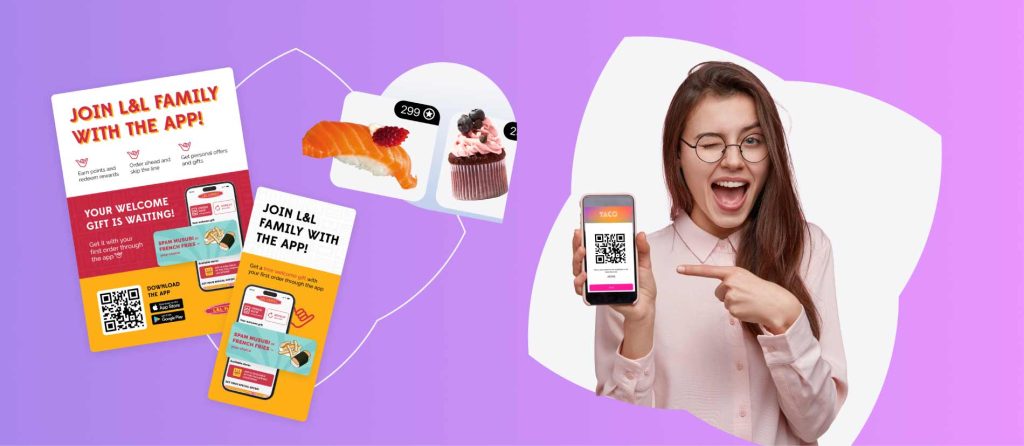 Promote your direct ordering channel in-store and motivate your employees to lead this effort. Encourage them by offering bonuses for every app download or registration made through their promo codes in your online ordering platform.
To encourage employees and make their life easier, make sure your offer provides instant in-store benefits so that customers are more willing to pay attention to the offer. For example, a customer can get a free dessert in-store just after downloading an app.
6) Create a rewarding loyalty experience
Shift your loyalty program's focus from transactional "discount-seeking" to fostering emotional loyalty. By prioritizing meaningful connections with your customers, you can differentiate yourself from competitors and aggregators. This approach will not only set you apart but also encourage customers to spend more with your business. 
When your marketing strategy heavily depends on discounts, it can diminish the value of your restaurant and create a constant expectation for lower prices. As a result, customers may perceive your food and service as less valuable.
7) Print money by launching win-back campaigns
Reaching out to "lapsed" customers through win-back campaigns is a great way to re-engage those who have previously ordered but haven't returned recently.
Your previous customers are valuable as you have information about their past purchases. By creating personalized campaigns based on their past orders and reaching out to them on a monthly basis, you can demonstrate your appreciation and encourage them to give your restaurant another chance.
For more insights on the effectiveness of win-back campaigns and how they can boost repeat orders, I highly recommend reading – "Remember me? How Papa Johns engaged their most inactive customers – and made first steps to rebuild their ordering habit." This case study dives into Papa Johns' successful efforts to re-engage inactive customers and provides valuable strategies and tactics you can implement in your win-back campaigns.
In conclusion, our increasingly digitalized world presents not only challenges but also opportunities for the restaurant industry. The rise of on-demand online services has reshaped customer expectations, demanding a shift in traditional business models. Embracing this change requires restaurants to prioritize direct online sales, thereby providing seamless, engaging, and personalized experiences for customers.
Strategically establishing user-friendly direct ordering channels, nurturing existing customers, and incentivizing rewarding loyalty programs are crucial elements of this transition. Furthermore, promoting internal advocacy and revitalizing customer relationships through win-back campaigns can significantly boost direct online sales. 
Success in the digital era extends beyond the adoption of new technologies. It encompasses a holistic and customer-centric approach aimed at fostering enriching and rewarding experiences. Through such a strategic approach, restaurants can effectively navigate the challenges of digitalization and unlock new opportunities for growth.