Our Latest LoyaltyPlant Product Updates?
It's been a little while since our last update, and during this time, we've been hard at work behind the scenes. We are absolutely thrilled to present some exciting Q3 product updates for our CRM today, with more exciting news for the app part coming next week!
Gifts tied to Promo-codes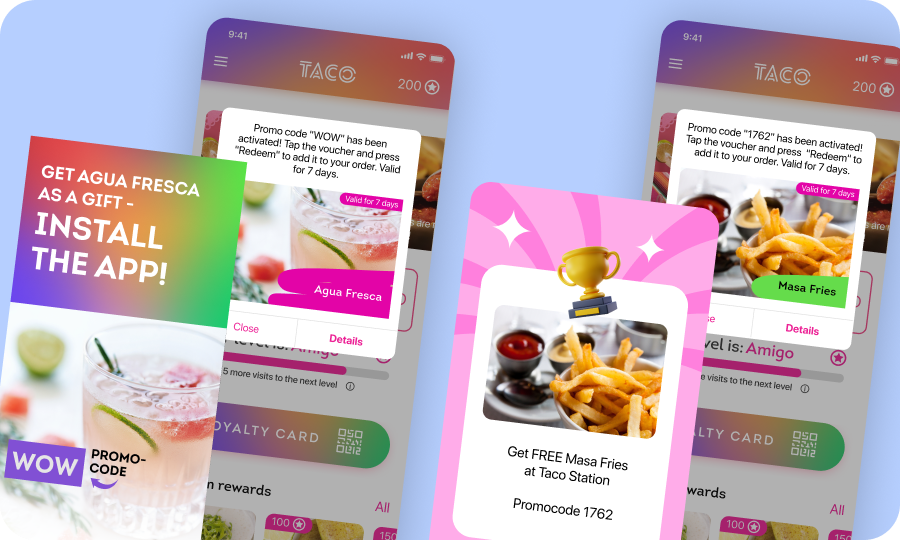 Introducing acquisition campaigns with gifts tied to promo codes! Now, you have the power to launch multiple promo codes, each with different rewards, across various user acquisition channels. Or, you can run a single offer with multiple codes across different channels. For example, use one code on social media, another in cross-promotions, and a third at your physical locations.
In campaign statistics you can view the number of code entries, rewards redeemed with the code, and revenue brought in by the campaign audience. Using audience segmentation filters, you can effortlessly identify specific app users who've used a particular promo code. You can also dive deeper into order and revenue analytics within the Analytics section to gain insights into their behavior and assess the performance of each promo code. This empowers you to effectively monitor how each channel is performing, make informed decisions, and identify the best strategies for acquiring new app users! 
Automated Referral Program Campaign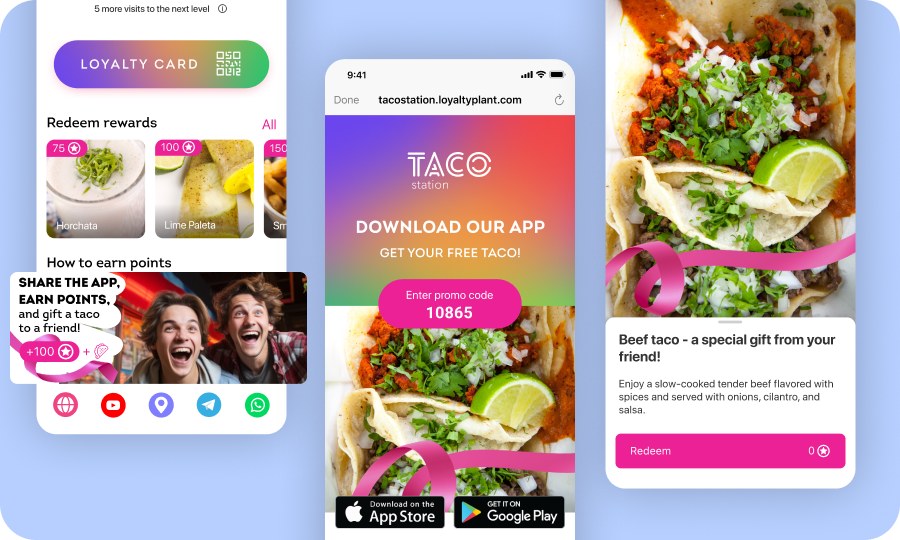 Our new Referral Program Campaign automatically rewards your customers when they are referred by a friend through the 'Refer a Friend' feature. Previously, you awarded points to both referrers and those who installed the app (if you had set it up), along with providing a standard welcome gift to those who installed an app, which was the same for everyone. Now, you have the flexibility to replace the standard welcome gift with a unique, channel-specific welcome gift for those who install via referral.Additionally, you can still award points to those who refer, depending on your settings, such as after those referred users make their first purchase. However, we recommend disabling the feature of awarding points to those who installed via a referral if you currently have it enabled.  
Order Item Trigger for Gifts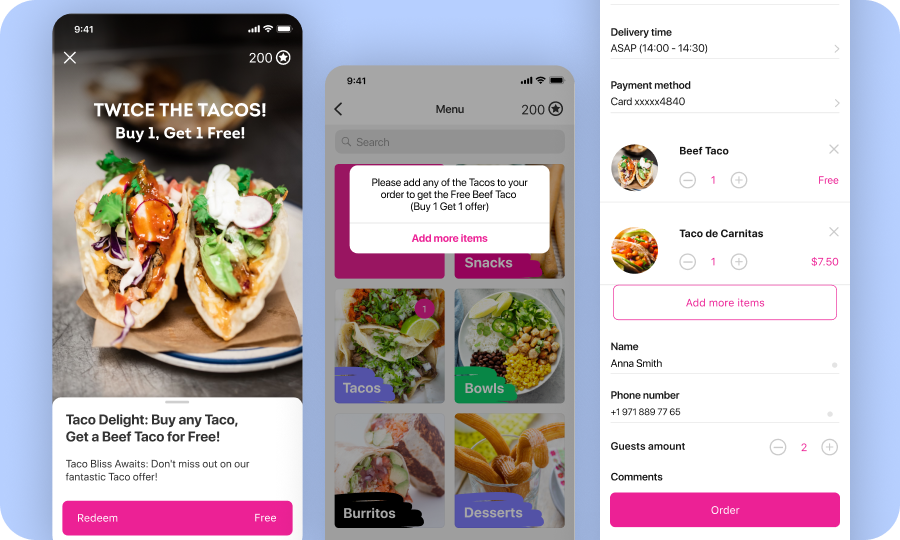 This new feature enables you to specify particular items in an online order that qualify for gifts. Now, you can create enticing 'Buy 1 Get 1' offers, where your customers enjoy a complimentary second item. Alternatively, you can delight them with a special combo: 'Buy a burger, and savor free french fries.' This not only enhances customer satisfaction but also offers opportunities for upselling, promoting selected items, encouraging specific purchases, and executing more advanced marketing strategies.
Feedback Management Campaign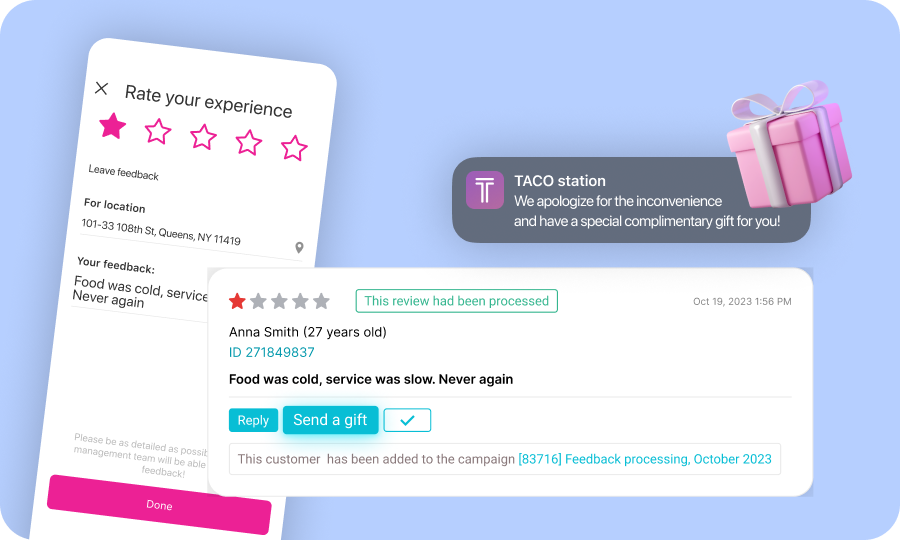 This new campaign allows you to send a gift in response to user feedback submitted through the app. It is managed within the CRM through pre-configured campaigns. For instance, one campaign can be set up for cases where a guest shares very negative feedback, and you want to make amends with a significant gift. Another campaign can offer simple, cost-effective gifts when you want to encourage someone for their "mystery shopper" services – here, the choice is entirely yours!
While handling reviews, you can write a response and add each user to one campaign or another, and the user will receive a gift. The user's review is automatically marked as processed. Now, you have a powerful tool for retaining your customers and enhancing their loyalty by providing them with complimentary gifts, which are perceived as having higher value compared to points alone.
Other Feedback Page Enhancements
We've made several improvements to your feedback management process. Reviews are now sorted by ratings, with low-rated reviews (1-3 stars) displayed first for immediate attention. These reviews are color-coded, and emails with negative reviews are labeled "IMPORTANT" for quick identification. High-rated reviews (4-5 stars) without comments are automatically marked as processed. We've also added default response text for review responses and released an "Isolated feedback" feature for granting specific employees access solely to review handling, excluding other CRM sections. 
Numerous small enhancements
We've made numerous small enhancements, including updated reports on awarded points and issued gifts, along with individual permissions for each report to offer more flexible CRM access settings for staff. In addition, we've made minor adjustments to the Reports page, adding descriptions and reorganizing report cards for a more streamlined experience. 
We're thrilled about these updates and their potential to enhance your user acquisition, engagement, and retention strategies. If you have any questions or need assistance, feel free to request a demo, our dedicated Customer Success Manager can guide you through these campaigns and features. Keep an eye out for the upcoming APP part of the Q3 update next week, bringing you more exciting enhancements.