Contest magic: how to generate $20,000+ profit with a lottery
Contests. Giveaways. Lotteries. You've probably seen them a lot – and even participated in some. And why wouldn't a business use them? It's a highly engaging way to interact with the audience: the thrill, the opportunity of getting something for free, especially from a brand you love, can wake a little gambler in all of us.
And with successful engagement comes profit.
Generating a lottery can be a challenge, and you may feel skeptical about organizing one in a restaurant setting. After all, even the technical realization might be tricky.
If it's in-store, how do you keep track of the participants? Manually filling out information is tiresome done either by the guest or your staff. If it's unnecessarily complex, the potential participants might abandon the whole idea.
If it's digital, how do you ensure there is no fraud and exploitable mechanics? After all, online competitions have hilariously been broken before (like a website that accidentally gave away land for free).
Well, if your brand has a mobile app, you potentially have a perfect channel to organize something like this. Of course, the points above depend on your solution provider and whether they got it covered (we do); but to release and promote it via app is the best choice by far.
That's what our customer L&L Hawaiian Barbecue (USA, 200+ locations) did – and gained $20,885 incremental marginal profit per location from it.
The rules were simple: with each purchase of and over $20 the customers received lottery tickets, which they then could submit in the form to take part in the lottery. The engagement mechanics were very simple: each lottery ticket converted to a prize. 
However, each lottery ticket also took part in a bigger lottery to win top prizes. So the more tickets you submitted, the more chances there were to win.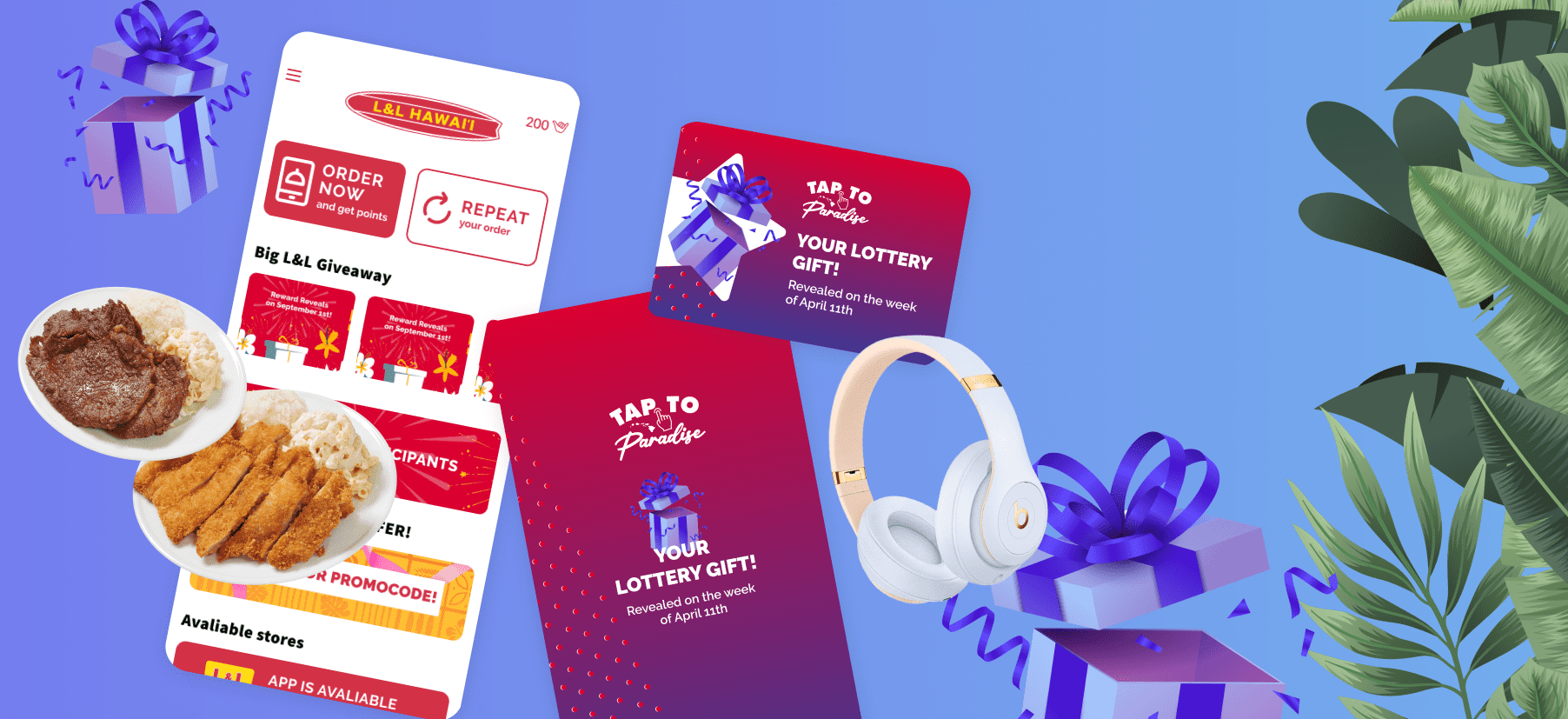 So, to decompose the mechanics – make more orders of and over $20 – have a bigger chance to win a great prize.
The channel of choice to promote this was a mobile app: with email marketing there was a risk that the message would not be opened by the audience at the right time, and the SMS might have been completely missed or disregarded as spam. 
Let's break down what was achieved with this promotion.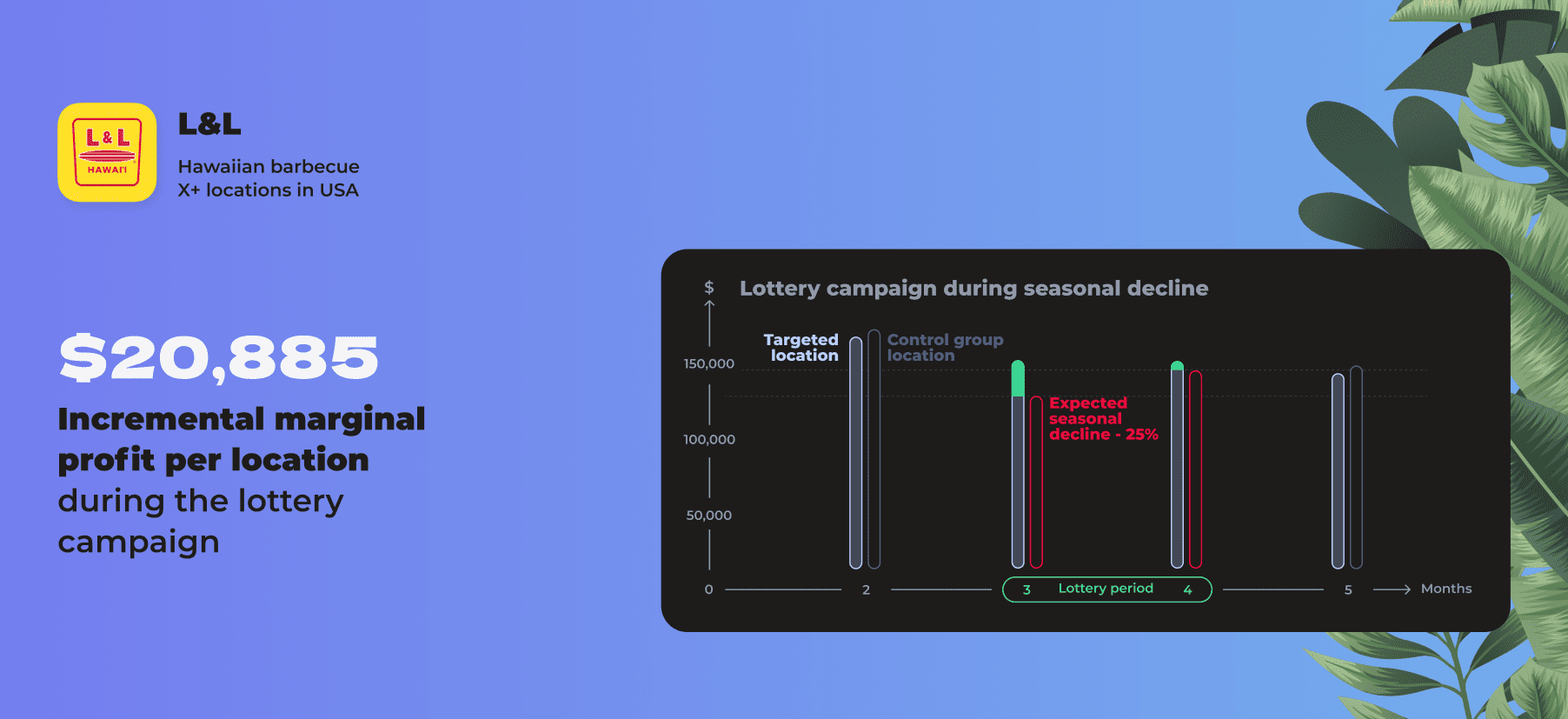 The immediate value is clearly visible: if we compare the lottery audience behavior with the control group (audience of the locations without active app promotion, where everything else is the same), the lottery has motivated guests to order more – it even mitigated the 25% seasonal decline. It's important to note that $20,885 is an incremental marginal profit: it means that the costs of the prizes and foodcost of the orders are already accounted for.
But on top of that there is a lot of hidden value that may not be apparent from just glancing on the graph that's shared here:
It's brand awareness: the customers knew that L&L had launched something exciting, and they were very likely to tell about this to their friends and family (if of course they weren't super dedicated to winning). Also, it's a great theme for a press-release and a way to attract new customers.

It was not only a way to increase order frequency: the mechanic could work for "reanimating" customers that hadn't visited in a long time. They saw the chance to win a freebie and were motivated to order – and the customer that makes an order after a long time is more likely to order more in the future.

It's really great for emotional loyalty: the promotion was based on gamification principles, and the participants didn't know what L&L had in store for them, creating the outcome every surprise and delight marketing strategy aims for. Also, since the customers saw that the brand is ready to give, they are more likely to interact with L&L in the future.
This is how L&L generated extra revenue with their app with a very simple – but highly engaging – mechanic. Exactly what the modern consumer is looking for when interacting with a brand:  a meaningful communication that is exciting and rewarding.
You don't need to invest into a very complex technology to compete with the industry giants in restaurant digital marketing. As proven by this lottery, mobile apps can actually work wonders when interacting with your customers. So don't be afraid to experiment, realize all the ideas that you have (but please don't use discounts)  – and the customers will naturally fall in love with your brand.