Award-winning customer success strategy explained
Many great businesses have centered their marketing efforts around customer loyalty and personalization. In fact, personalization in marketing has been seen to become more and more of a trend. But how do you achieve outstanding business results and compete with good old-fashioned BOGO offers that bear no personalization whatsoever and yet are so widely spread? 
As the Head of Customer Success at LoyaltyPlant I've been advising customers on how to utilize our mobile marketing & loyalty platform to create highly personalized marketing communications that are rewarding to both – businesses and their customers.  
I'm happy to share a success story we built with Papa Johns UAE, one of our major clients in the MENA region. We've put customer communications and impeccable experiences first, which was recognized by The Loyalty360, the most coveted awards in customer loyalty. Our case received a Silver Award in the 'Customer Insights and Metrics' category. 
Every business is unique. However, it all begins with uncovering businesses' pain points and envisioning the desired outcomes, along with the resources it'll presumably take to get from point A to B. 
When we partnered with Papa Johns' UAE new management team in 2019 we took on a mission to implement a technology platform to move away from costly broad discounts/marketing campaigns to personalized and targeted offers. And ultimately stand out from the competition, increase customer loyalty and spend. 
At the beginning of our marketing transformation, we hypothesized, analyzed our customer data, and developed the best-personalized communications/offers based on behavioral patterns and purchase preferences.  
What does personalization mean?
Knowing your customer is the key to success in any marketing undertaking. The core value of LoyaltyPlant technology solution is within smart ways to capture and analyze customer data, thus targeting customers with something they would be interested in because they have specific purchase patterns.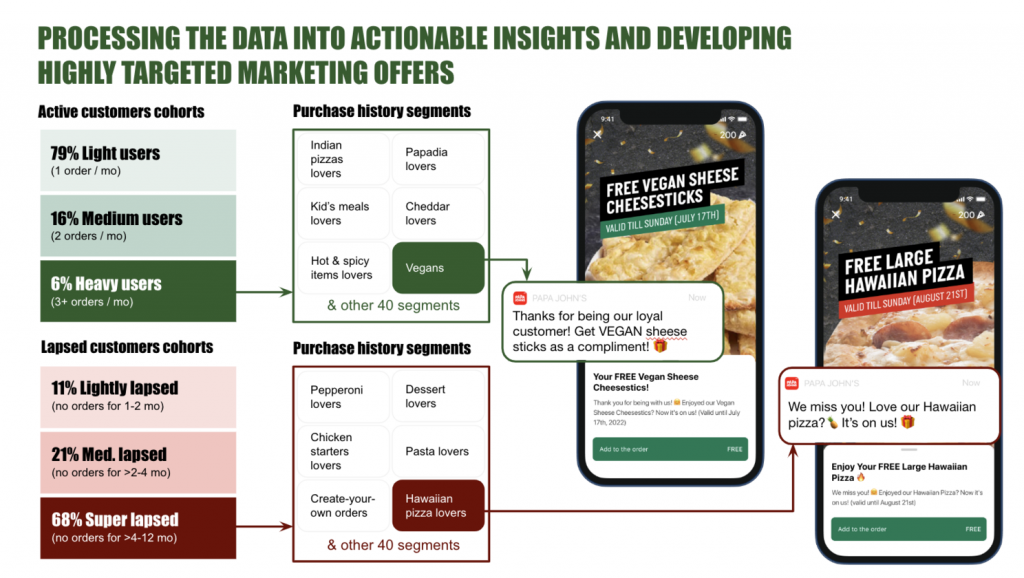 Is it worth experimenting?
Absolutely! Oftentimes you'd be surprised to learn how a supposedly highly successful offer/ promotion would not end up having positive results and vice versa. For instance, one might assume that having a choice option and a variety of products when making a purchase decision is good. But is having a choice option always better indeed?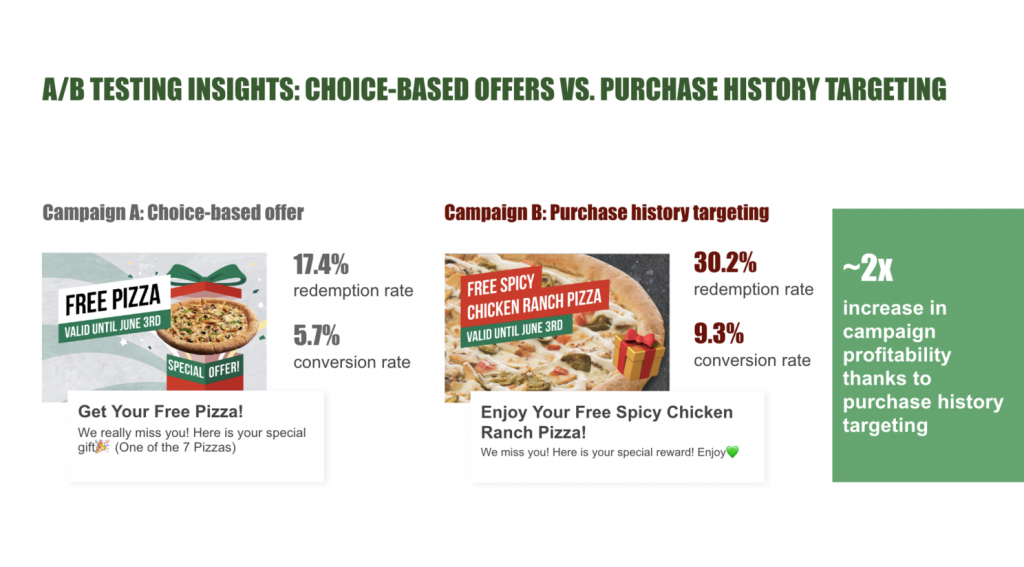 What are the actual business outcomes?
We managed to shift the marketing campaign focus from discounts to complimentary rewards and positively impacted the bottom line, despite the pre-existing customer expectations for large discounts that are so common in the region.
Additionally, we replaced a significant part of broadcast marketing campaigns with customer-led data-driven communication; this has shown us how much more effective personalized customer outreach is.